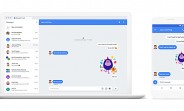 We knew it was coming, and today, Google has announced that its official SMS/messaging app Messages is now available on the web. The company says it was one of the top requested features by users.
"Today and over the next week, we'll begin rolling out Messages for web, one of our top-requested features that lets you send and receive texts from your computer," the company said in a blog post.
To access the web interface, all you need to do is to select the "Messages for web" option in the menu of your Messages mobile app, following which you'll need to scan a QR code, and that's it….
from GSMArena.com – Latest articles https://ift.tt/2MA8Baa