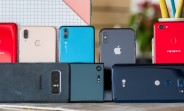 According to data from analytics firm Counterpoint, Samsung is the global leader in both smartphone and phone shipments for Q1 of 2018.
In terms of smartphone market share, Samsung managed to ship 78m phones – 22% of the 360m total in the three months beginning January.
Apple shipped 52.2m iPhones to obtain a 15% share and second place, globally. Huawei is third with 11% market share, which includes both its Huawei branded and Honor branded smartphones.
If we look at the different markets, Samsung tied Xiaomi, Huawei and Oppo for 13% market share in Asia with Apple a close fifth…
from GSMArena.com – Latest articles https://ift.tt/2Jvhynf