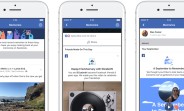 Facebook has launched a new feature dubbed Memories. It lets you access all memories/moments/life events that you shared on the social network from a single place.
The company says there can be several sections on your Memories page, including On This Day, Friends Made On This Day, Recaps of Memories, and Memories You May Have Missed.
This new feature can be accessed through the Memories bookmark sitting on the left of your News Feed on PC, or through the "more" tab on the bottom right of your mobile app.
"You can also access Memories through notifications, through messages that…
from GSMArena.com – Latest articles https://ift.tt/2JHWE3J