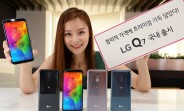 LG unveiled a trio of Q7 phones last month, and now it's back to fill us in on the pricing and availability details. The Q7 and Q7+ will go on sale tomorrow, June 15, in South Korea.
In a press release, LG said the Q7 and Q7+ will be available through all three mobile carriers in the country. The LG Q7 will cost KRW 495,000 tag ($455), while the plus version will go for KRW 570,000 tag ($525).
The press release also says the Q7 series will be available in Asia, Latin America, and Middle East Africa as well as Europe.
The company also mentions an 'early June' timeframe, but…
from GSMArena.com – Latest articles https://ift.tt/2LOF1fN