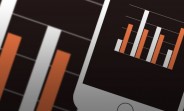 Plenty of commotion in the top 10 chart this week, mostly due to the eagerly-anticipated unveiling of Xiaomi's new flagship device. The Mi 8 is only part of the story, as the Chinese OEM also took the wrappings off the Mi 8 Explorer and Mi 8 SE.
The latter comes with a different design and with a more attractive price tag.
The Xiaomi trio clearly made a big splash in the rankings, with the two flagship variants, taking the first and second spots. The Mi 8 SE also made the list, securing 7th place.
Meanwhile, the Redmi Note 5 Pro managed to climb up the food chain to the third…
from GSMArena.com – Latest articles https://ift.tt/2xJoac2