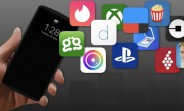 Weekend APPetizers (see what we did there?) is our latest feature where we tell you about some of our favorite apps that reside on our smartphones.
Paul's favorite apps
Hi, I'm Paul, and my daily driver is an iPhone, so invariably a couple of these apps will not be available for you Android users out there. What follows are my top 5 favorite apps that I use on a regular basis.
For this first article in the series, I'm going to avoid the more obvious core apps, such as social media, messaging and navigation and focus on other categories of apps in an attempt to bring you…
from GSMArena.com – Latest articles https://ift.tt/2JSQBJL