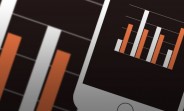 At a time when the number 1 and 2 remain the same as last week, a new number 3 is still exciting news. That would be the Samsung Galaxy J6, climbing two spots to join the Redmi Note 5 Pro and the Mi 8 on the podium.
The OnePlus 6 seems to be bolted in fourth – that's its third week in there after claiming the top spot 4 weeks ago and quickly slipping into second the following one.
The biggest gainer this week has to be the Redmi S2 (a.k.a. Redmi Y2) – entering the chart last week in 9th, it's now all the way up in 5th.
The Galaxy A6+ (2018) is the second Samsung to climb two spots…
from GSMArena.com – Latest articles https://ift.tt/2MxuKWF